Vladislav Burda: "If you want your family business to survive, it has to change"
17.04.2015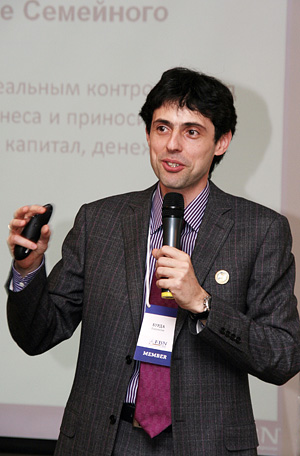 President of FBN -Ukraine -on the outcome of the third international FBN Ukraine tour, which was held on March 20-22in Vienna.
– The idea to create this Event emerged relatively spontaneously. We were talking to each other with Andrei Stavnitser, the Honorary Consul of Austria, and the other three fans of this country. And we decided that this country is a place where we'll hold our next event. There are many companies with a long history there, – VladislavBurda says.
The meeting with the owner of BankGutmann, FBN-partner of Ukraine, Mr. Alexander Kahane was useful and interesting, not only because he talked about the personal experience in the bank's management transfer to the next generation. One of the participants also asked him about how the Austrians survived the war and how Austria managed to overcome the difficulties similar to those, which Ukraine is facing now.
The Event'sparticipantslearnedhow one of the oldest Austrianbrands Sacher is running. These unique combinations of two totally different products helpthem both to selleach other: the legendary hoteland the legendary cake Sacher. Hotel Sacherwas founded in 1876, and since 1934,it has been inthe management offamily Gürtler.
– Mrs. Gürtler gave us a wonderful
recipe. If you want the next generation to start effectively manage your business, you need to step aside. It is often very difficult to do. But she has found a great way out: she bought a hotel in Salzburg, 500 kilometers from Vienna, and spends there at least three days a week. This is a very good recipe, – so is the president of FBN-Ukraine.
SergeiPetrov, a successful Russian businessman, told the story of his enterprise creation inthe CISand explained, whyhe moved to live inAustria.Another important topicwas the change ofbank instrumentsdue to changes inlegislation.
Together with the head of the company fedoriv.com AndreyFedorov, the Event's participants sorted out the future business trends and analyzed the prospects of future business projects that will be relevant in the next few years.
-Wecommonly do notthinkthat the crisis, social issues can providenew business opportunities. Today,perhaps more than ever, it is relevanttherecipe:"If youwant yourfamily businessto survive, it has to change". Andrey's presentation became theconfirmation of this. And, perhapsmost important thing,which the Event'sparticipantsreceive fromthese meetings,is the possibility tocommunicate with one another, – Vladislav Burda says.