The competition Family Business Awards of the year 2020 – 'The Best Family Business of the Year' - has started.
31.08.2020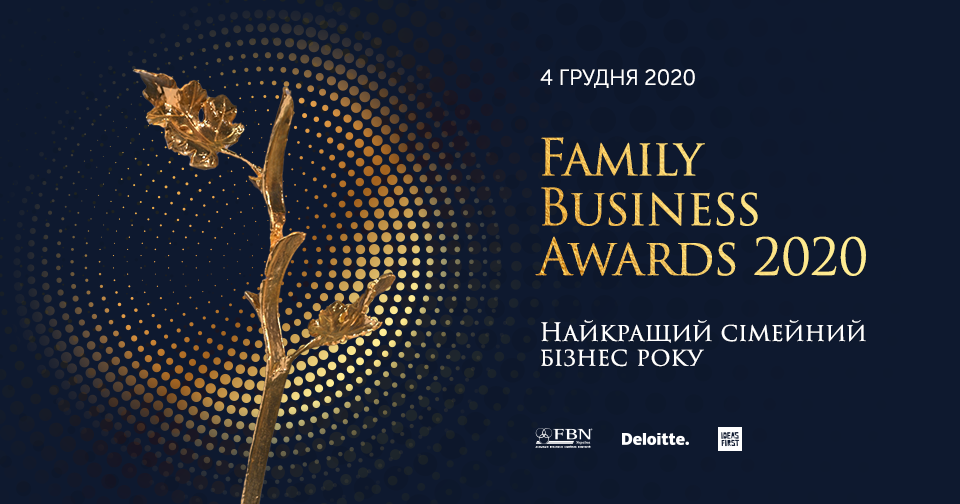 In 2019, the Association of Family Business Owners of Ukraine (FBN Ukraine) initiated the Family Business Awards of the year to promote the values ​​of family business, identifying and awarding the best family business of the year. The event is supported by Deloitte in Ukraine and IdeasFirst.
The main principles of the competition:
• participation in the competition is free;
• the award is given in three categories: 'Small Business,' 'Medium Business' and 'Large Business' (according to the amount of own capital as of December 31, 2019);
• the winner in the category is the company that scores the highest number of points among the nominees who submitted applications for participation;
• preparation and holding of the competition is carried out by the organizing committee, which consists of FBN Ukraine representatives and IdeasFirst;
• the organizing committee establishes an expert jury to hold the competition.
The award ceremony will take place on December 4, 2020.
Rules of Participation
The competition will take place in several stages:
Submission of applications by nominees - from 27.08.2020 till 26.10.2020;
Verification of quality criteria by Deloitte representatives in Ukraine - till November 9, 2020;
Jury voting (individual online evaluation of questionnaires by jury members) - till November 16, 2020;
Compilation of jury questionnaires and determination of winners in three categories according to the amount of points – till November 22, 2020;
Solemn award ceremony – December 4, 2020.