The book written by Olga Gutsal was recognized as the business book of the year
01.06.2021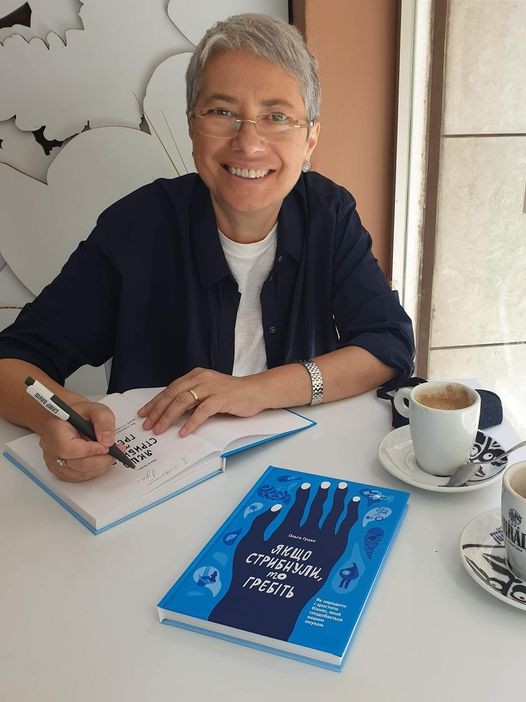 On May 28, KBU AWARDS 2020 (Book Award Ceremony) took place. Olga Gutsal's book 'If You Jump, Row' took the first place in the nomination 'The Best Book on Business Development.' The book received a certificate confirming its right for promotional packages in the English-language book market - that was the grand prize of the competition.
Also among the winners of the award:
In the nomination 'The Best Book on Business Development' the second place went to the book 'Baby and the Budget. How Ukrainian Parents Can Raise Financially Successful Children.' The author - Lubomir Ostapiv.
The third place went to the book 'Race You! How to Become a Unicorn in the Ocean of Donkeys.' The author - Max Lukominskiy.
In the nomination 'The Best Book for Personal Growth,' the first place was taken by 'Not a Terrible Book At All. About Life, Death and Everything in Between' by Anastasia Leukhina.
The second place was occupied by the book 'Conversations of Master Hai Tao About Strategy.' The author - Valeriy Pekar.
The third place went to the book 'The Nation of Vegetables? How Information Changes the Thinking and Behavior of Ukrainians.' The author - Oksana Moroz.
In the nomination 'Readers' Choice' (based solely on online voting), the book 'When to Say 'Yes'. How to Believe in Yourself and React to the Negative' won. The author - Lyudmila Kalabukha.
All 7 books were awarded with commemorative statuettes and diplomas and received the right to use the appropriate award badges when being promoted in the book market. In addition, throughout 2021, they will receive constant information support on all information platforms of the award and its founder - the oldest in Ukraine online store of business literature Kniga.biz.ua.
The general partner of the KBU Awards is Nova Poshta.
Among the members of the jury, there are Volodymyr Popereshnyuk (the co-founder and co-owner of Nova Poshta) and Larysa Mudrak (CEO of Family Business Network Ukraine, the President of Win Win Communications Ukraine).
Partners: Institute of Ukrainian Book, Academy DTEK, 'Library Country' Charitable Foundation, Union of Ukrainian Entrepreneurs, KA Group, as well as the Publishing Houses such as Nash Format, Folio, ArtHuss, BookChef, Balance Business Books, Vikhola, Readers Club 'Family Leisure Club' and Vivat.
In total, 22 books by 23 authors were shortlisted for the award. They were read by 15 members of the jury and evaluated on 12 criteria. The award was supported by 15 partners. Summarily, during the online voting on the portal of the Information Partner of the prize – the online media MC.today, the readers granted 14,129 votes for the books.